16 Dec

3 Trends To Watch In 2015 From 351 Financial Advisors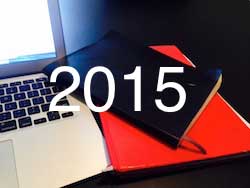 So what's going to happen in 2015? Over the year I've seen three clear trends from discussions with 351 financial advisors. I have two books full of notes as you can see in the image and I am going to share what I am seeing. Getting insight into what other advisors are thinking and doing can better prepare you for 2015. Not just in terms of competition but getting new ideas to propel your business forward. Let's get started.
Trend #1 – New Client Acquisition Methods
A consistent theme throughout the year, which will continue to gather pace next year, is the need to acquire clients through new methods. Historically, advisors have been very reliant on referrals and seminars. This is changing. Increasingly the advisors I speak to are keen to acquire clients through content marketing (e.g. blogging, podcasting), online risk questionnaires (to lead capture drive by website visitors) and bespoke client retirement tools and calculators like getmoreretirement.com.
Client acquisition doesn't need to be as "local" as it once was and a sizeable number of advisors want to use online marketing to gather clients nationally. My experience tells me advisors have been threatened and inspired into action by the online investment firms (e.g. robo-advisors) and are looking for more competitive tools and approaches.
Trend #2 – More 401k Business
As you already know fee-only RIAs are increasingly interested in advising on retirement plans (401ks) for plan sponsors. This interest has not waned. Perhaps it is the increased publicity of "marketplace conflicts" that exist in commission-based models or growing self-confidence that continues to push RIAs in this area but don't expect it to let up. The opportunity for RIAs to diversify and strengthen their business is very tempting. Unfortunately the tools and platforms that help advisors deal with high-net worth clients are more advanced than those for RIAs managing retirement plans. This is an opportunity for technologists within the industry. If you have any tools or ideas you'd like to see in this area let us know within the comments.
Trend #3 – Risk Needs, Risk Tolerance, Risk Capacity
As you would expect many advisors speak to me about assessing client risk. There has been one great trend in this area, which I welcome. This is the need to correctly balance a client's needs, risk tolerance and risk capacity.
Historically advisors were only focused on risk tolerance but quickly realized overly conservative clients would never meet their retirement goals. They then swung towards investing based on a client's needs, which resulted in stock heavy portfolios to make up for a lack of savings. When 2008 happened clients couldn't stomach the declines, bailed and missed the run up in stocks from 2009 to today.
Advisors have learned that each portfolio needs to consider a client's risk needs (goals), risk tolerance (willingness to risk) and risk capacity (risk capability). That is why at Pocket Risk we released a new feature earlier in the year allowing advisors to add questions to our questionnaire to ensure they capture this necessary information.
Final Thoughts
I expect my conversations in 2015 to continue just where we left off in 2014. How do we tackle the robo-advisor threat? In what new ways can we grow our business and how can we better serve our clients? That is what the trends in 2015 will be all about. I am excited to see how they evolve!
#Bonus Trend – One additional trend I expect to hear more about is the concern about bonds and whether they are a sufficient diversifier from stocks in the near term. Time will tell.